CBD Vapes
Everything you need to know about CBD Vape Juice
In this post, we are going to share with you everything about CBD vape juice. Right from the very basics of what even is a vaporizer through to CBD Vape Juice effects.
CBD has been around and used for thousands of years, while Full Spectrum CBD Vape juice is a fairly new way to enjoy the cannabinoid. CBD vape juice contains 3 main ingredients, all of which are food-grade ingredients and so deemed safe for consumption.
Other ingredients might include flavorings, depending on the e-liquid you have. CBD vape juice and CBD vape oil are the same things. It isn't actually correct to call it vape oil, however, these terms are used interchangeably. It is really important to remember that you shouldn't put tincture oil in your vape device.
It is really important to remember that you should NEVER put tincture oil in your vape device.
What is a CBD vaporiser?
A CBD vaporizer is a device used to vape the cannabinoid. This tool heats the contents in the chamber and converts it into vapor to be inhaled.
They can also be used for vaping nicotine e liquids and come in different styles for your needs.
There are some that allow you to vape dry herbs and others waxes, most commonly, they are designed for e-juices.
This CBD vaporizer will heat the e-liquid to the ideal temperature of around 200 degrees C. You would then draw the vapor into your mouth and lungs, then exhale. You won't be blowing massive clouds with CBD, for one the juice is high in PG which isn't cloudy, and for two the basic kits aren't designed to make dense fog.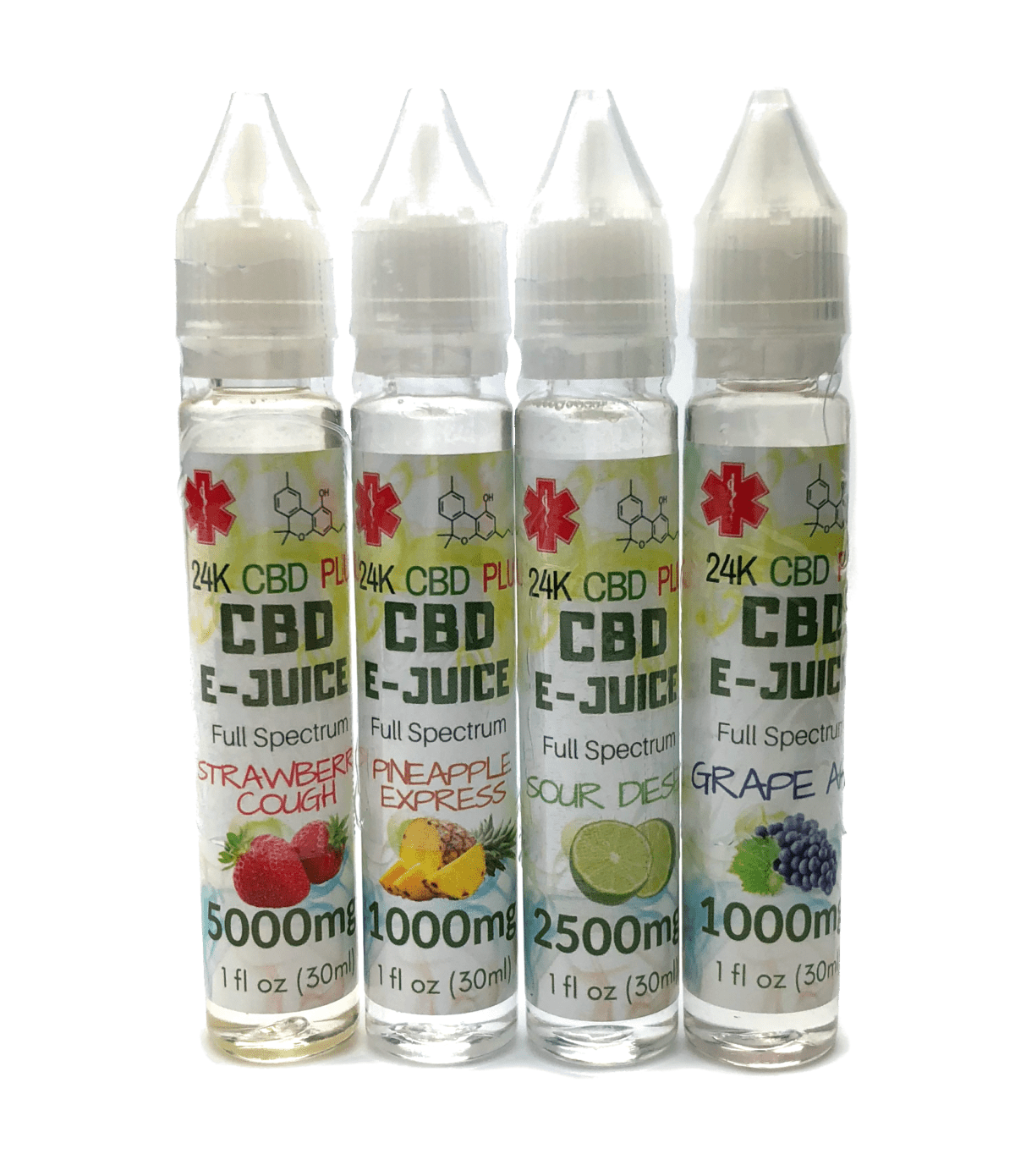 How should I use CBD Vape juice?
You might decide to use your Full Spectrum CBD Vape juice every day. Maybe you have a set time, such as first thing in the morning or last thing at night. Or you might just use the vaporizer when you are in pain or suffering from a bout of anxiety.
In terms of how to use CBD vape juice, you will want to follow the instructions of how to fill your kit. Top it up with your CBD vape juice and allow it to settle for 10 minutes or so. This will make sure that the e-liquid has saturated the wicks, to avoid dry hits or burning your coil.
What is the Full Spectrum CBD Vape Juice effect?
Firstly, let's talk about what the CBD vape juice effects are not, and that is intoxicating. CBD will not get you high, however much you take. That is because it contains legal limits or absolutely no Tetrahydrocannabinol (THC).
THC is the cannabinoid that leaves you feeling 'high', hungry, giggly, and sometimes sick.
Instead, the effects of vaping CBD are quite the opposite. People report feeling:
Relaxed
Reduced pain
Reduced anxiety
Less stressed
Lifted mood
Alert/ drowsy – depending on the dose
Adverse effects may include:
Lightheaded, particularly when chain vaping
Dry mouth from vaping (keep water to hand!)
Thanks for reading my post. If you have been using CBD vape juice already, please share your experience with us.